NVIDIA TAO Toolkit
Create highly accurate, customized, and production-ready AI models to power your speech and computer vision AI applications.
Download TAO
Get Started
What Is the NVIDIA TAO Toolkit?
Eliminate your need for mountains of data and an army of data scientists as you create AI/machine learning models, and speed up the development process with transfer learning - a powerful technique that instantly transfers learned features from an existing neural network model to a new customized one

The NVIDIA TAO Toolkit, built on TensorFlow and PyTorch, uses the power of transfer learning while simultaneously simplifying the model training process and optimizing the model for inference throughput on the target platform. The result is an ultra-streamlined workflow. Take your own models or pre-trained models, adapt them to your own real or synthetic data, then optimize for inference throughput. All without needing AI expertise or large training datasets.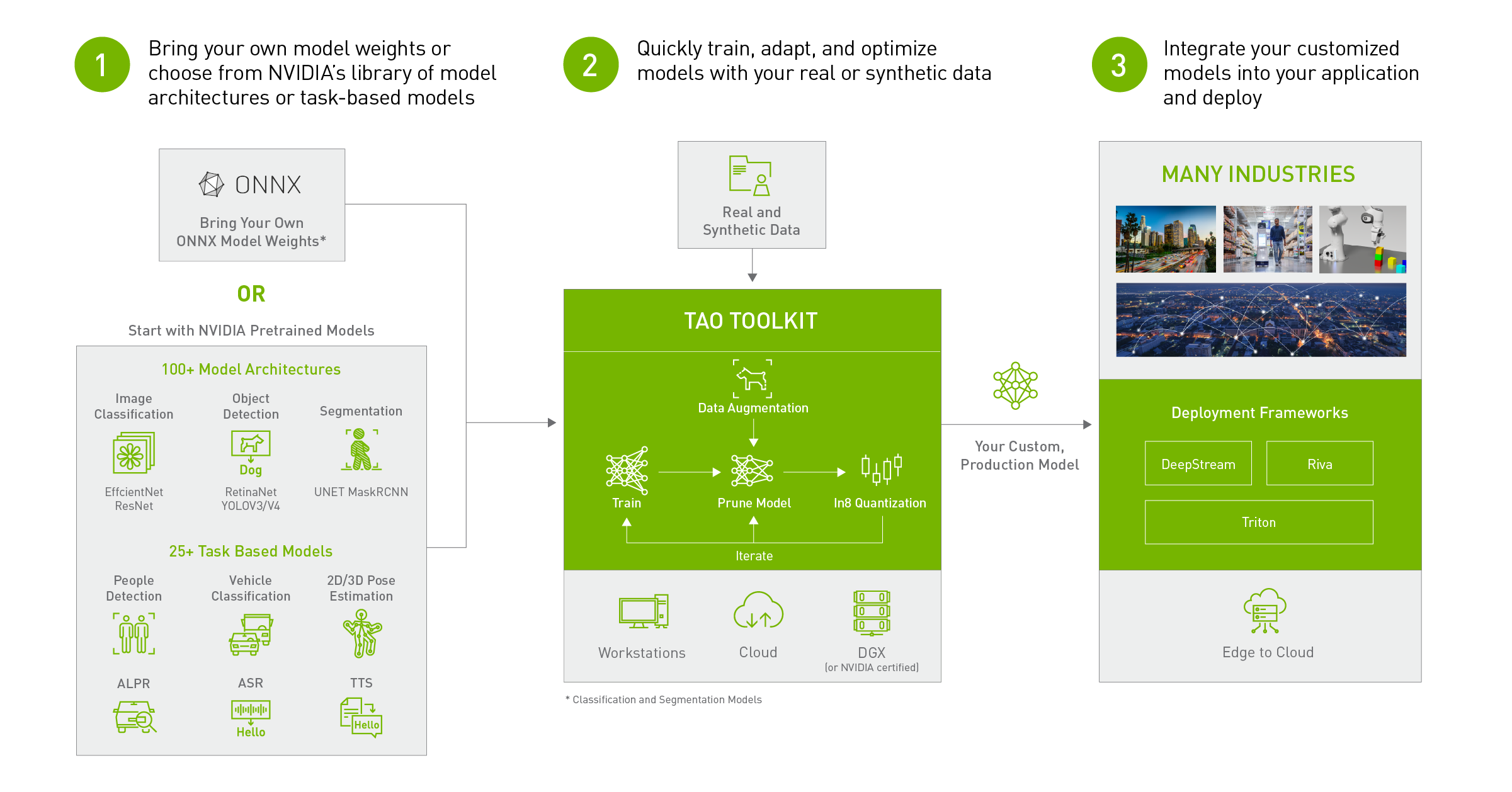 Announcing TAO 5.0
The next version of TAO Toolkit brings the power of the world's best vision Transformers in the hands of every developer and every service provider to create state-of-the-art computer vision models and deploy them on any device - GPUs, CPUs, MCUs - whether at the edge or in the cloud.

The new TAO 5.0 will be available in June.
Read Blog
Key Benefits
Train Models Efficiently
Use TAO Toolkit's AutoML capability to eliminate the need for manual tuning and get to your solutions faster.
Build Highly Accurate AI
Use SOTA vision Transformer and NVIDIA pretrained models to create highly accurate and custom AI models for your use-case.
Optimize for Inference
Go beyond customization and achieve up to 4X performance by optimizing the model for inference.
Deploy With Ease
Deploy optimized models using NVIDIA DeepStream for vision AI, Riva for speech AI, and Triton Inference Server? on any device - GPUS, CPUs, MCUs and more.
Get Enterprise-Ready with NVIDIA AI Enterprise
Access Complete Source Code and Model Weights
NVIDIA AI Enterprise includes access to TAO source code and the model weights for pretrained models without encryption for a wide range of use cases. Now developers can view the weights and biases of the model which can help in model explainability and understand model bias. In addition, unencrypted models are easier to debug and integrate into custom AI apps.

Enterprise support is included with NVIDIA AI Enterprise to ensure business continuity and AI projects stay on track.

Experience TAO Toolkit and NVIDIA AI Enterprise on NVIDIA LaunchPad

Have an NVIDIA H100? Activate NVIDIA AI Enterprise software included in your NVIDIA H100 integrated mainstream servers.
What Are Pretrained AI Models?
Pretrained AI Models have been trained on representative datasets and fine-tuned with weights and biases. You can quickly and easily customize these models with only a fraction of the real-world or synthetic data needed to train from scratch.
Explore Pretrained Models For Vision AI
Create custom deep learning models for computer vision tasks like image processing and classification, object detection, and semantic segmentation using 100+ NVIDIA-optimized model architectures.

You can also use task-based models to recognize human actions and poses, detect people in crowded spaces, detect and classify vehicles and license plates, and much more.

Check out our new transformer-based vision AI models to develop robust AI-enabled video analytics applications.
Download Jupyter Notebooks From NGC
View Performance Chart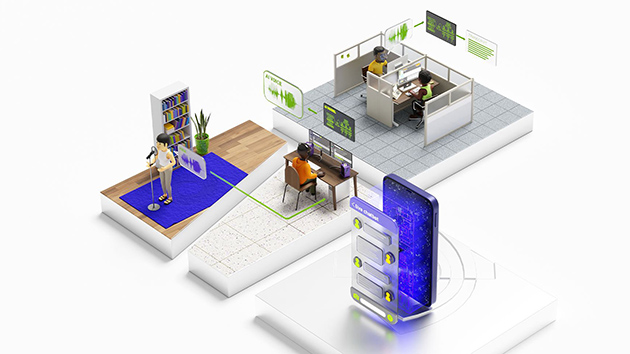 Explore Pretrained Models for Conversational AI
Design personalized real-time call center experiences, smart kiosks, and other conversation AI services by fine-tuning Automatic Speech Recognition (ASR) , Natural Language Processing (NLP), and Text-to-Speech (TTS)-based modes.
Download Jupyter Notebooks From NGC
Inference Performance
Unlock peak inference performance with NVIDIA pretrained models across platforms from the edge with NVIDIA Jetson? solutions to the cloud featuring NVIDIA Ampere architecture GPUs. For more details on batch size and other models, check the detailed performance datasheet.
Xavier? NX

AGX Xavier

AGX Orin?

T4

A2

A30

A100

Model Arch

Inference Resolution

Precision

Model Accuracy

GPU + 2*DLA(FPS)

GPU + 2*DLA(FPS)

GPU + 2*DLA(FPS)

GPU(FPS)

GPU (FPS)

GPU (FPS)

GPU (FPS)

PeopleNet

960x544x3

INT8

80%mAP

263

418

1294

1064

581

3160

6245

3D Pose Estimation

256x192x3

FP16

8 pixel error

147

235

711

713

471

2242

4179

Pose Action Classification

3x300x34x1

FP16

90%

87

150

262

376

211

1122

2145

DashCamNet

960x544x3

INT8

84% mAP

423

670

1895

1676

865

4900

9500

License Plate Recognition

96x48x3

FP16

98% mAP

706

1190

4118

3959

2180

12400

27200

Action Recognition 2D

224x224x96

FP16

83%

245

471

1577

1897

1044

6000

12600

People Semantic Segmentation

960x544x3

FP16

87% mIoU

199

356

673

1027

631

2862

5745
Customer Stories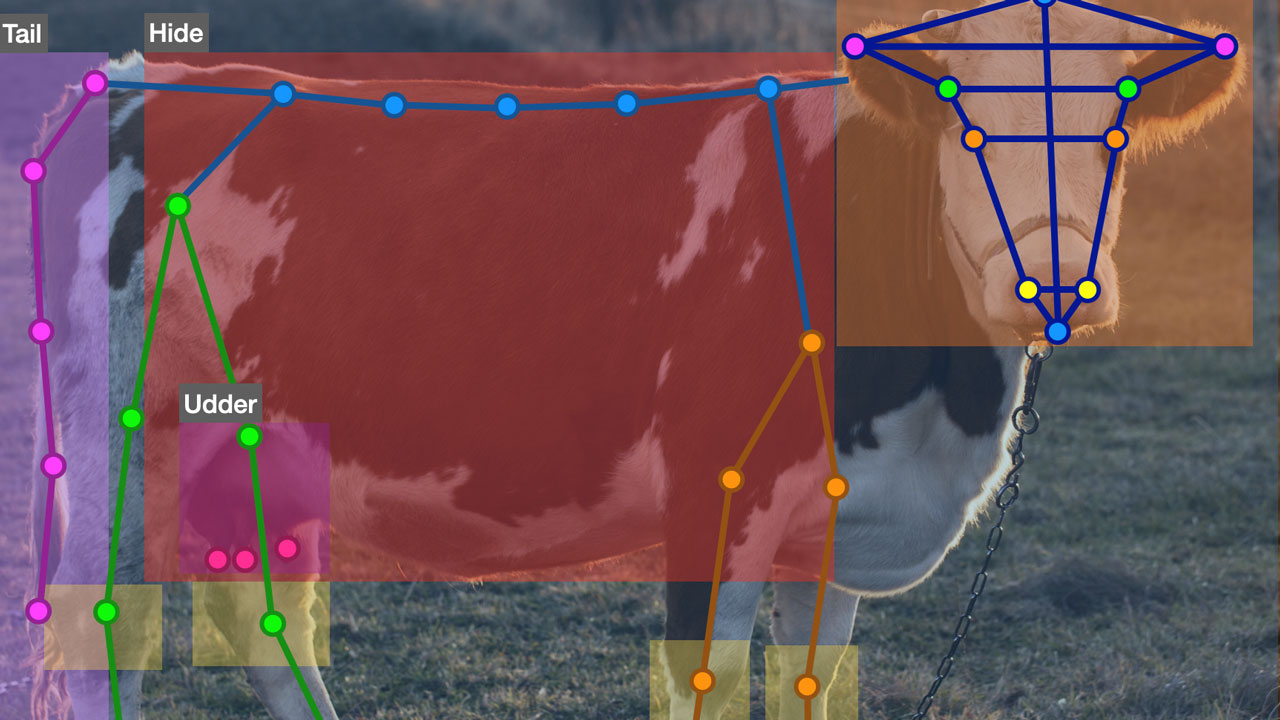 OneCup AI
OneCup AI's computer vision system tracks and classifies animal activity using NVIDIA pretrained models and TAO Toolkit, significantly reducing their development time from months to weeks.
Learn More
KoiReader
KoiReader developed an AI-powered machine vision solution using NVIDIA developer tools including TAO to help PepsiCo achieve precision and efficiency in dynamic distribution environments.
Read the Blog
Trifork
Trifork jumpstarted their AI model development with NVIDIA pretrained models and TAO Toolkit to develop their AI-based baggage tracking solution for airports.
Learn More
---
---
Resources
New Developer Blog
The next version of TAO Toolkit supercharges vision AI development for practically any developer, in any service and on any device.
Read the Blog
New AutoML Webinar
Learn how to accelerate AI Model creation using AutoML in NVIDIA TAO 4.0.
Watch the Webinar
GTC Webinar
Learn how to create and deploy custom, production-ready vision AI models without any expertise in AI.
Watch the On-Demand Webinar
Simplify and speed-up AI training with TAO Toolkit
Get started