Explore Omniverse, the Cloud-Native Modular Development Platform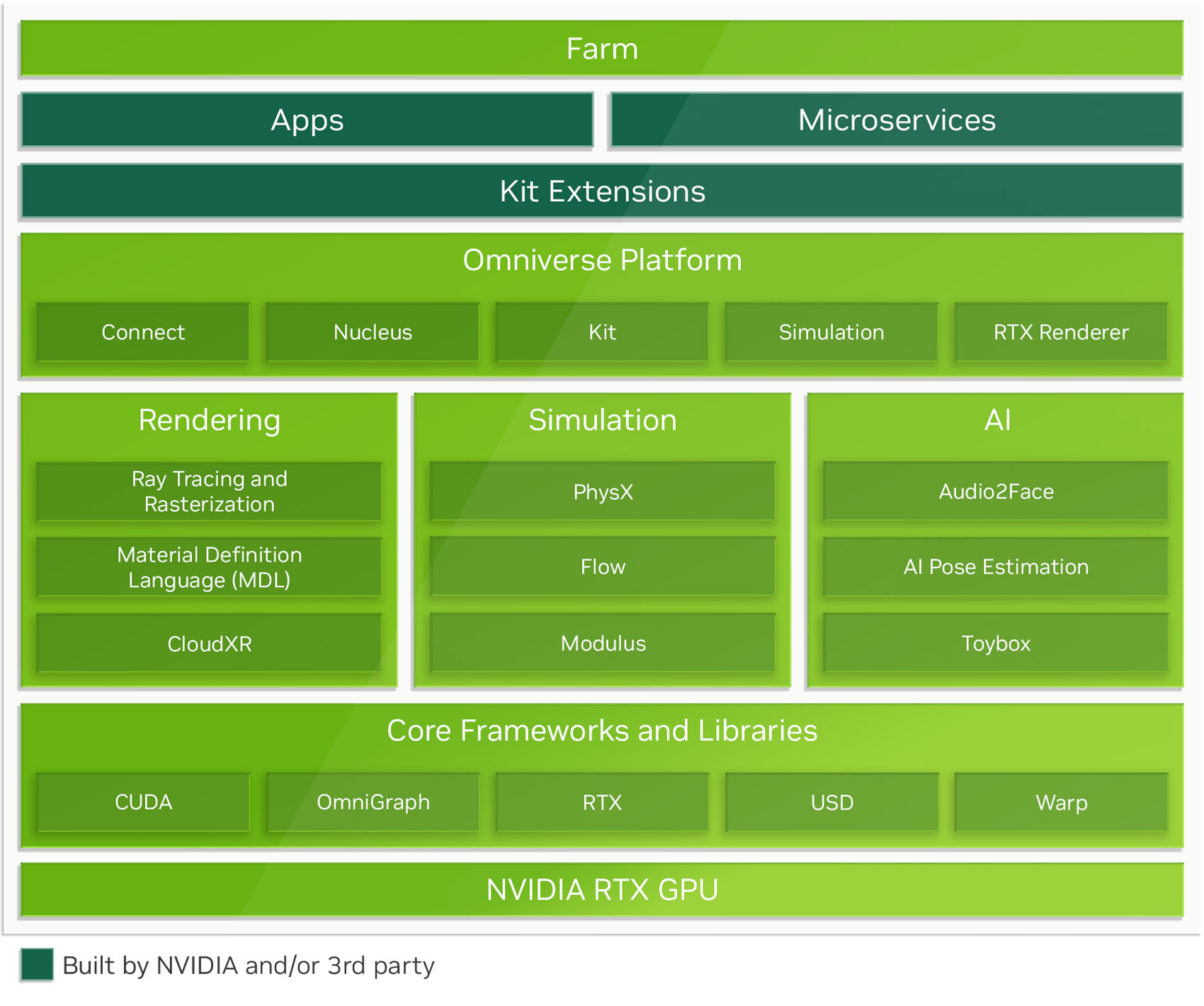 NVIDIA Omniverse is easily extensible and customizable with a modular development framework. Developers at every level of expertise can customize or build applications and services from scratch for 3D use cases.
Develop Faster Than Ever
Produce code quickly, efficiently and sustainably with low- and no-code Python or C++ development languages to build extensions and tools.
Build Quality Advanced Tools With Ease
Leverage over 20 years of NVIDIA AI, rendering, and simulation technology by easily modifying or incorporating source code for over 500 pre-built Omniverse extensions and apps into your projects and distributions.
Connect to New Markets and Expand Your Audience
Publish your apps and extension on the Omniverse Exchange Publishing Portal and reach a multitude of customers across all industries in the NVIDIA ecosystem.
What You Can Build on Omniverse
Independent or enterprise developers can easily build and sell their own extensions, apps, Connectors, and microservices on the Omniverse platform with the wealth of available tools and code samples.
Get Started
Synthetic Data Generation for Computer Vision

Visualization and XR Solutions
By Developers for Developers
Leveraging the source code for more than 500 extensions, community developers across all industries and domains have built Python and C++-based extensions to accelerate 3D workflows such as productivity tools, procedural modeling, synthetic data generation, and scene modifier tools.
Experience Omniverse Locally or in the Cloud
On Premises
NVIDIA RTX Systems
The unrivaled power and capability found in the latest generations of NVIDIA RTX-enabled GPUs deliver the performance needed for the real-time, multi-app, and AI features built into Omniverse.
Learn More About NVIDIA RTX Systems
Cloud
Omniverse Cloud
NVIDIA Omniverse? Cloud is a platform-as-a-service providing individual and enterprise developers a full-stack cloud environment to design, develop, deploy, and manage industrial metaverse applications.
Learn More About Omniverse Cloud
Omniverse Cloud APIs Are Coming Soon
Are you a developer looking to leverage the cloud to build metaverse apps and services? Sign up to be notified.
Notify Me
Developer Licence and Pricing
It's free to develop on the Omniverse Platform. Developers can sell their own apps, extensions, microservices, or Connectors, or be featured in the Omniverse Exchange. For licensing and usage details, consult the FAQ about free Omniverse and Omniverse Enterprise licenses.
Download
Pushing the Limits of 3D and AI
Stay up to date on the latest NVIDIA Omniverse news.
Subscribe