NVIDIA VIDEO CODEC SDK - Get Started
---
If you are looking to make use of the dedicated decoding/encoding hardware on your GPU in an existing application you can leverage the integration already available in FFmpeg. FFmpeg should be used for evaluation or quick integration, but it may not provide control over every encoder parameter. NVDECODE and NVENCODE APIs should be used for low-level granular control over various encode/decode parameters and if you want to directly tap into the hardware decoder/encoder. This access is available through the Video Codec SDK.
---
Video Codec for application developers
Video Codec SDK 12.1 Header Files
---
FFMPEG is a cross-platforms solution to record, convert, and stream audio and video. FFMPEG supports video hardware acceleration on NVIDIA GPUs.
Hardware acceleration for most popular video framework.
Leverages FFmpeg's Audio codec, stream muxing, and RTP protocols.
Available for Windows, Linux.
You can now use FFMPEG to accelerate video encoding and decoding using NVENC and NVDEC, respectively.
---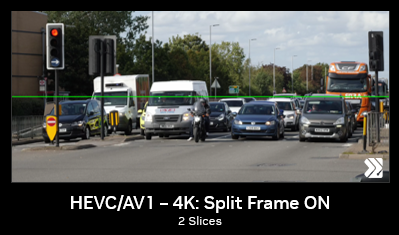 What's new in Video Codec SDK 12.1
NVENC Low Level API for H.264, HEVC and AV1 encoders:

Iterative Encoding: Encoding the same frame multiple times with different QP values and without advancing encoder state.
ReCon: provide access to NVENC reconstructed frame.
NVENC Low Level Stats: encoded frame output stats at row and block level.
External lookahead: API to invoke lookahead explicitly.

CABR (Content Adaptive Bit Rate) acceleration using NVENC Low Level API
Explicit Split Frame encoding: enable/disable split frame encoding or use default automatic mode.
Sample application to demonstrate accelerated file compression (AppEncMultiInstance) by using multiple NVENCs.
---
System Requirements for Video Codec SDK 12.1
---
Documentation and Samples
Online Documentation
For convenience, NVDECODE API documentation and sample applications are also included in the CUDA Toolkit, in addition to the Video Codec SDK download package.
Note: For Video Codec SDK 7.0 and later, NVCUVID has been renamed to NVDECODE API.
---
Developer Forums
Our forum community is where Developers can ask questions, share experiences and participate in discussions with NVIDIA and other experts in the field. Check out the forums here.
---
FAQ
Additional Resources